I am Boris Lebron, a jazz crooner and a pop singer, and I declare: no matter, who sang this or that song before. Once I sang it, the song is mine!
I was born, well, some day of the previous century.
Kiew was my native city, where many years later I became the one and only male jazz singer.
I started listening music at the age of three. Passionately disdained any kind of music except for classics till about twenty. The first one from the world of pop, who really impressed me with his huge voice and irresistible energy, was Tom Jones. Jazz itself attracted me later.
With time I discovered Dean Martin, Frank Sinatra, Tony Bennet, Sammy Davis Jr., Bing Crosby, Mel Torme - all those fabulous personalities. Thus I approached a magic world of crooning and jazz singing. I was absolutely charmed by swing. My deepest jazz impression was for years - and in fact remains till now - a giant figure of Ella Fitzgerald, who is practically everything: a greatest crooner, a greatest jazz singer, a greatest swinger... scatter... whatever! She is my highest school, my most sophisticated teacher of crooning, my most profound inspiration! I consider her the highest jazz authority ever.
Another figure of a highest rank is for me a magic and tragic Chat Baker, whose mystic performance is an absolute highlight of profound dramatic singing, a sort of prayer in the stile of "cool". Only Ella is ever equal to any highlight.
First I took part in a jazz combo as a drummer. Step by step becoming professional, I remained a drummer for many years, and must confess, it was a poor deal, because, though having much musicality and a good feeling for time and swing, I never had energy and speed… or to say it plain an adequate motoric physiology for real jazz drumming.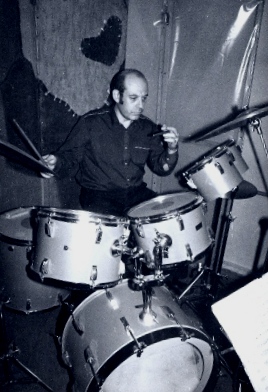 *******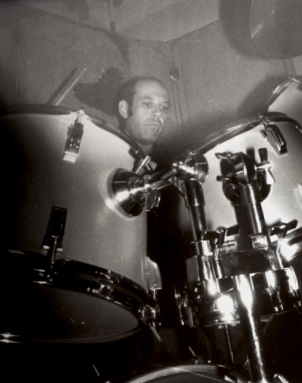 Here I am, during one of early recordings, struggling with the set... o'k, doing music after all, but never acheaving what I was born to acheave. At that time I've been still occupying a place which was never really mine.
The first song I sang was "Strangers in the Night". It was and immediate success and continued to be a success through the years, so I sang this song to the point that today I really hate it. Soon after first performances it was obvious, that I am much less a drummer than a singer. Studying crooning and jazz singing… well, for me it was a breathtaking journey, which took years of listening carefully to all the great crooners and jazz singers possible. It extended my horizons greatly. Somewhere on the crossroads of this musical journey and my own singing I found and matured my personal stile.
I've been influenced very much by such fantastic performers, as Al Jarreau (I even had a privilege to perform his version of "Spain") and two Dianas: a blind singer Diana Schuur and a fabulous female crooner - Diana Krall.
Short
Musical
Biography

Short
Musical
Biography

Short
Musical
Biography

Joao Gilberto and Tom Jobim drove me crazy with bossa nova. To a certain extant Joao Gilberto is a super-crooner & brasilian bossa nova is the perfect field for crooning.
George Benson, another giant of jazz & crooning, whom I immediately recognised as a great singer, despite the fact he was mainly mentioned as guitarist, of course, took his important part in my jazz education. Years later I was confirmed in my opinion of Benson, coming across the words of Max Roach, who estimated Benson as a great singer in the first place, and only then a great guitarist. Benson was once asked: "Why don't You write your own songs?" I strongly hold with his answer: "Any song is mine, since I have taken the first note!". Directly from these words derives my initial declaration. That's exactly what I say, when asked, why I mainly stick to covers. No matter for whom was written this or that musical arrangement, I'll use it good and do it my way.
It's much more to it, but anyway, all of You, friendly strangers - here I am, still singing, after many times changing sidemen and two times changing country of living.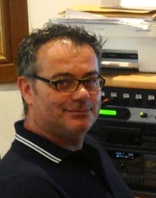 My sound technishian and friend
Fabio Cobelli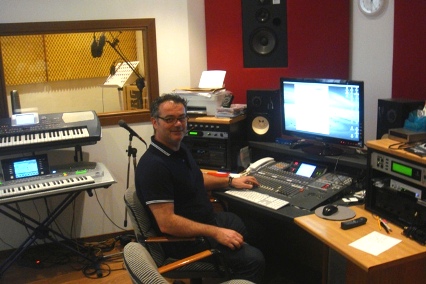 Fabio in one of the studios of his "EMOTION RECORDS",
where we work and where thanks to his skill and experience I
produce my tracks.


Thank You, Fabio, You make my day!